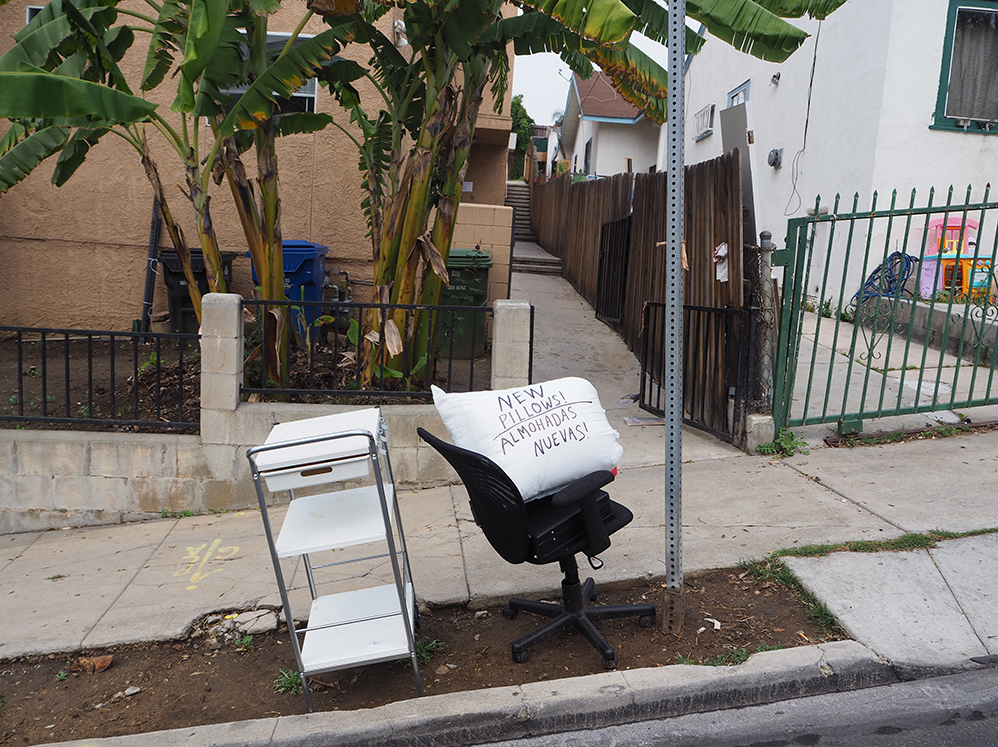 Alexandra Grant, Pillows, 2020
AUSTIN, Texas - Peralta Projects today announced a virtual photography group exhibition and discussion titled "Motel" featuring artists Theresa Anderson, Zoe Crosher, Juan Fuentes, Anthony Francis, and Alexandra Grant. The show brings together artists of varying disciplines and media around the evolving look at the concept of "home" in our time.
"The show deals with the meaning of an oftentimes false idea of a permanent place or home," said Peralta Projects founder, Esteban Peralta. "A pandemic, an unprecedented social and economic crisis, and the everyday issues we all face only serve to magnify the messages in these photographs. Ruminations on transience, loss, and evolution are all part of this exhibition."
"Motel" opens online at https://peraltaprojects.com/motel on July 16. The group discussion will post to the Peralta Projects website soon after.
Peralta Projects brings established and emerging contemporary artists of varying and inclusive backgrounds and practices together in conversation with a specific concentration on the human element of the artists and their work.
Theresa Anderson lives and works in Denver. Developing interdisciplinary work through performance art, sculpture, drawing and painting she explores concepts dealing with conflict, and/or, oppositional categories, and recitations on agency and inadequacy. Recent notable exhibitions include "everything squiggles" at 808 Projects, "every length of a drawing" at Yeah Maybe in Minneapolis, "Performativity" at Los Angeles Contemporary Exhibitions, "Thief Among Thieves" at Museum of Contemporary Art Denver, and "some kind of cuddle" at Gray Contemporary in Houston. She is represented by Gray Contemporary. More information at http://theresaandersonart.com.
Zoe Crosher is a New York-based artist. Her iterative and multi-faceted projects explore overlooked and forgotten histories, both real and manufactured, and concern the schism of photographic documentary — the interstice between the presumption and promise of truth and what that reality actually is. In 2012, she took part in MoMA's New Photography show, and in 2011 she was a recipient of the prestigious "Art Here and Now Award," awarded by LACMA. More information is available at https://www.zoecrosher.com.
Juan Fuentes is a documentary photographer born in Chihuahua, México, who grew up in Denver, Colo. His kinship to the barrio is evident within his photography, telling the intimate stories of everyday life of immigrants and Chicanos. As a chronicler of life in Denver, when he isn't photographing, he collects images from community and archives a visual record of the city before and after the influx of gentrification and displacement of people and culture. His images are available on his Instagram account @thewritejuan.
Anthony Francis is a portrait photographer, writer, and educator. He has exhibited work throughout the U.S. and deals with issues of universal humanity, vulnerability, family, peace, and love. He makes portraits and continues to work toward autonomy, love, and the politics of portraiture. He is based in San Antonio, Texas, and engages contemporary art in several areas. More information is available at https://www.afrancisart.com.
Alexandra Grant is a Los Angeles-based artist who—through an exploration of the use of text and language in various media—probes ideas of translation, identity, dis/location, and social responsibility. Grant has exhibited widely at galleries including Lowell Ryan Projects, Los Angeles; Honor Fraser Gallery, Los Angeles; Night Gallery, Los Angeles; Galerie Lelong, New York City; Galerie Gradiva, Paris; and Harris Lieberman Gallery, New York City; and at institutions such as MOCA and LACMA. Her works are included in museum collections such at LACMA, MOCA, the Orange County Museum of Art, and the Blanton Museum of Art. Grant is the creator of the grantLOVE project, which raises funds for arts-based non-profits. More information is available at https://alexandragrant.com.
Contact:
Esteban Peralta
peraltaprojects@gmail.com
http://peraltaprojects.com